Winter Park chooses to focus on reliability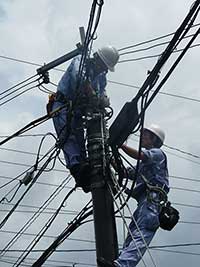 Winter Park, Florida, formed a consumer-owned utility in 2005. Since then, it has had lower rates, fewer outages, and local control. Winter Park's effort was sparked by persistent problems during the 1990s with Progress Energy, their investor-owned utility. Progress opposed the buyout strongly and spent ten times as much as supporters on the election. Progress ads claimed a "yes" vote would be catastrophic, costly, and unsafe. But residents turned out in droves and voted "yes" overwhelmingly–by 69 percent–in favor of the city's plan to form a municipal electric utility.
The new utility began its operations in 2005. The city contracted with ENCO, a third-party, private-sector operations company–just as the Pine Tree Power Company would do here in Maine. Winter Park has since enjoyed full local control. Rates in Winter Park are now lower than neighboring communities still served by Progress Energy (now Duke Energy). Winter Park has also undergrounded most of its lines, and expects to have all lines buried by 2026.
Despite the scare tactics used by Progress Energy in 2003, the sky did not fall in Winter Park. Residents saved money, and enjoy far better service. When a hurricane hits, Winter Park's lights are on.
To hear the full story of Winter Park from the utility manager there, please visit our Videos page and scroll down to Power Lunch #1.
Kennebunk Power and Light: Solar power is cheaper
Kennebunk Light and Power District is a nonprofit consumer-owned utility. "We have no dividends to pay to shareholders, stockholders," General Manager Todd Shea said. "Our customers literally own the company that we operate."
The Kennebunk Light & Power District, is led by a five person Board of Trustees elected by the residents of the Town of Kennebunk. The Trustees are authorized among other things to hire a General Manager to run the operations of the District. As a consumer-owned not for profit electric distribution company the District is accountable only to the residents and the customers it serves.
The company can purchase power at a wholesale price, which is passed directly on to customers. In 2017, the utility signed a 20-year solar power purchase agreement. The company discovered that "Pricing for the solar power is actually lower than the cost to purchase energy off the grid under Kennebunk Light and Power District's current energy contract."
In the town of Kennebunk, a bill for 318 kWh of usage would cost you about $49, according to Shea. Just over the border in Kennebunkport, CMP customers pay almost $57 for the same amount of power.
Eastern Maine Electric Cooperative: Reliable service for 77 rural Maine towns
Eastern Maine Electric Cooperative (EMEC) covers an area twice as large as Rhode Island. EMEC is a not-for-profit company incorporated in Maine in 1940. Because it is owned by its customer-members rather than foreign stockholders, the employees and member-elected board of directors have an undivided loyalty to those who live and work in Eastern Maine.
Despite the rural nature of the area, EMEC's reliability is well- known. Customers and managers routinely report only a few hours per year without power, with numerous stories of neighbors from CMP or Versant territories visiting to charge cell phones.
EMEC is also a part of a nationwide network of electric cooperatives that share resources, giving this small company access to expertise, technology and economies of scale greater than companies fifty times its size.
Eastern Maine Electric Co-op: Proudly serving 3,000 square miles of Aroostook, Penobscot, and Washington Counties.
EMEC serves the most rural territory of any utility in Maine,
consisting of approximately 3,000 square miles (77 towns) in:
Eastern Washington County
Southern Aroostook County
Western Penobscot County
Madison Electric Works: Serving large businesses and four Maine towns
Madison Electric Works is a publicly-owned utility, serving electric customers in Madison, Starks, Anson and Norridgewock, Maine. Major business customers include Backyard Farms and manufacturing at the former Madison Paper site. Incorporated in 1888, MEW's coverage area was established to enhance the manufacturing boom at the turn of the century near the river.
As the company home page says, "Delivering clean energy is our business. Madison Electric Works has a solid foundation to pursue sustainable growth and competitive markets, providing customers with low rates and peace of mind."
The utility has invested in battery storage to shave peak load and keep the energy costs down, and signed a 25-year contract to purchase solar power.