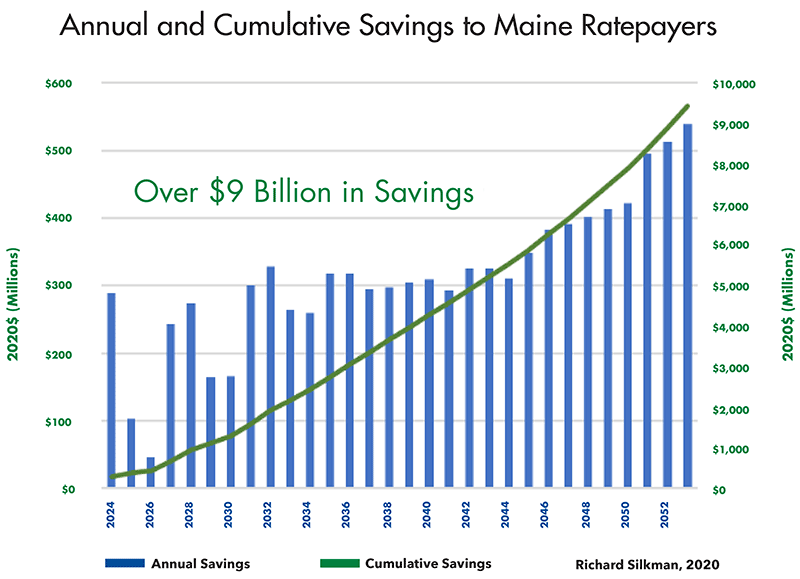 While investor-owned utilities (IOUs), including CMP and Versant (formerly Emera, formerly Bangor-Hydro), are managed to provide profits for shareholders, a consumer-owned utility (COU) is controlled and managed for the benefit of its customers, not for profit, dividends, or stockholders.
In Maine there are 9 small COUs already serving part or all of 97 towns. Their customers pay far less than the customers of CMP or Versant (formerly Emera, formerly Bangor-Hydro). In fact, as of January 2021, these two Maine IOUs charged 58% more for residential service than Maine's COUs, on a kWh basis.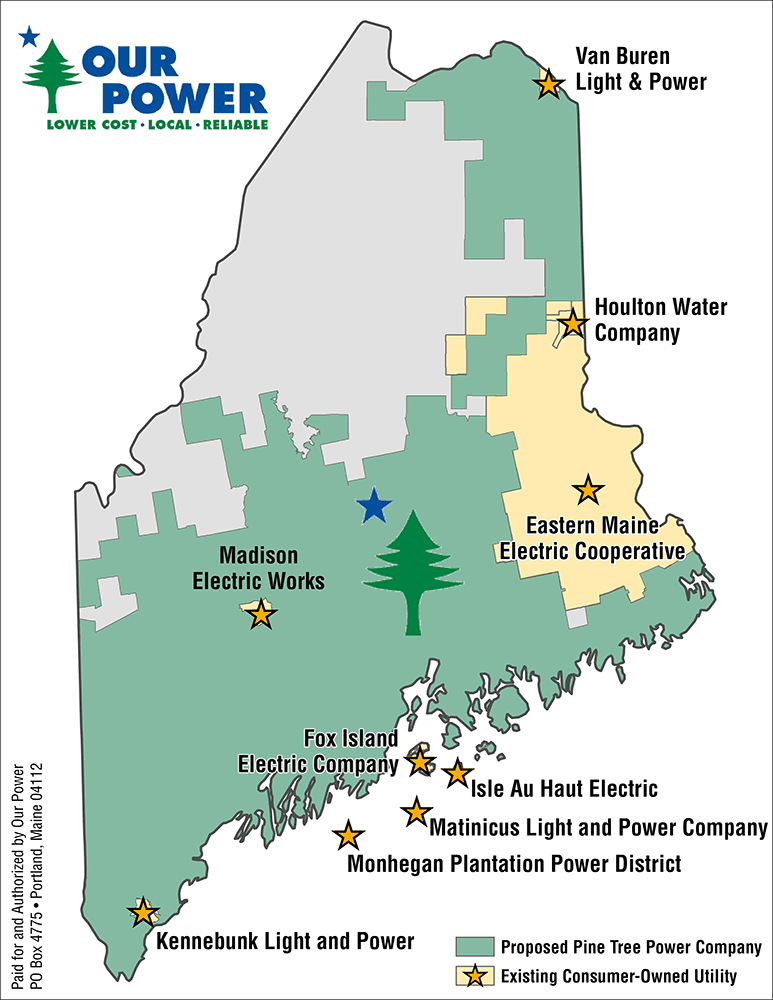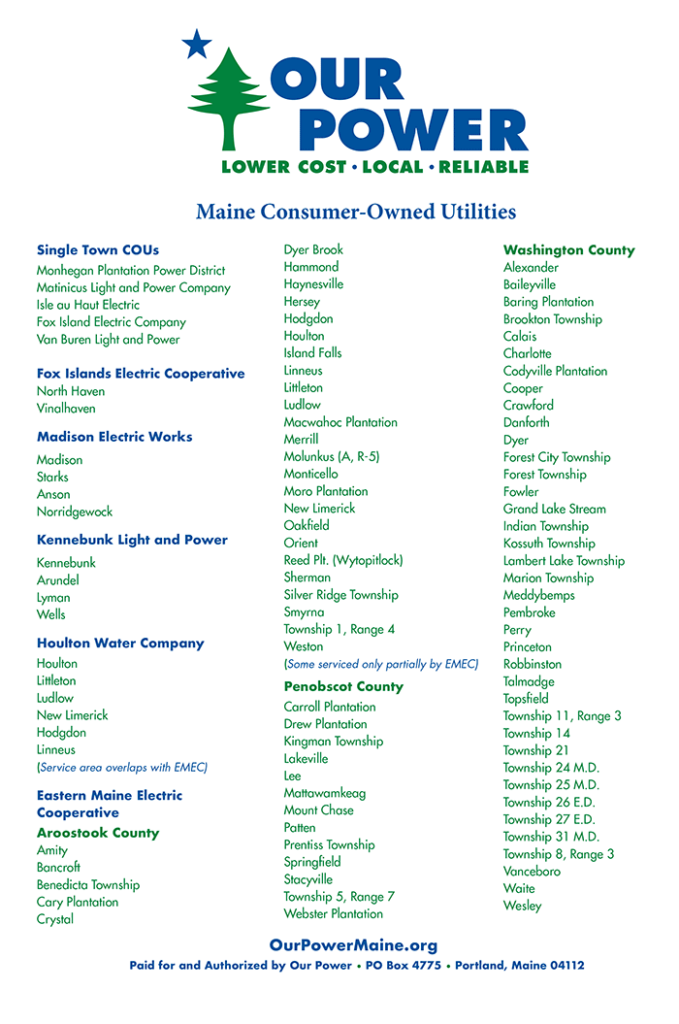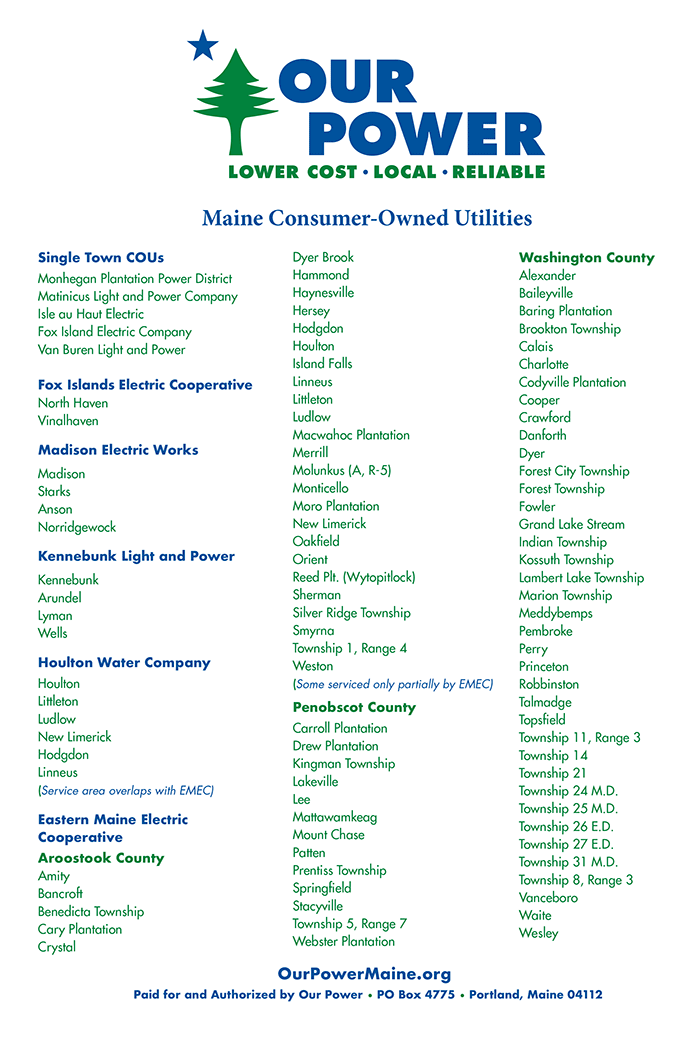 Across the nation, approximately 2,000 consumer-owned utilities structured like the Pine Tree Power Company provide electricity to 49 million people. These COUs serve 49 states.
For instance, Winter Park, Florida converted from an investor-owned to a consumer-owned utility. They repaid their acquisition cost in ten years and dramatically increased reliability, even with bigger storm events in Florida.
An act of the New York Legislature created the Long Island Power Authority. When the Authority took over the Long Island Lighting Company systems in 1998, rates for customer-owners dropped by 20 percent. Today, rates remain lower than those of neighboring Con Edison.
Our energy future depends on electricity. Lower cost, local control and reliability make the Pine Tree Power Company the right move for Maine to achieve its ambitious goals for energy independence.
A recent poll from May 2021 shows that 75% of Mainers support creating a consumer-owned utility. Now is the time to make it happen.
Additional Resources:
Consumer-owned utilities in Maine
Maine has a history of locally-owned electric, water and telephone utilities. Currently part or all of 97 of Maine's 488 communities are served by consumer-owned electric utilities, or COUs: